Join Us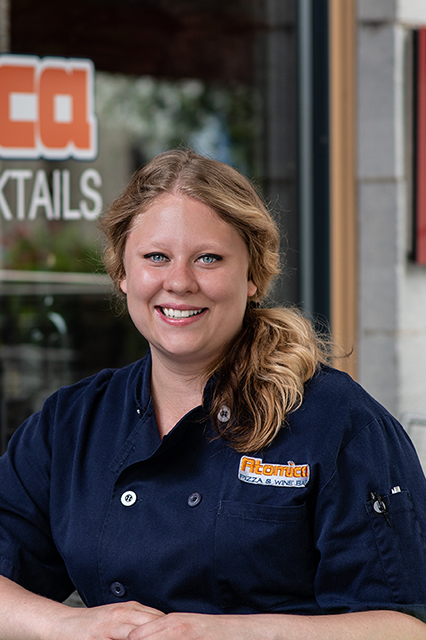 Reserve now and be sure to pick up your free copy of the 2019 Milk Calendar!
Atomica Kitchen is known for its modern Mediterranean food and bespoke, crafted cocktails. Local products are showcased on a daily card and throughout the menu which features small plates to share, along with pizza, pasta, salads and house-made desserts.
Executive Chef Cass Mercier shares her passion for seafood and locally-sourced products with a devoted clientele rounded out by Queens University students. "I've spent my life living in two amazingly different worlds. The east coast gave me such a love and passion for seafood and Ontario gave me a love for having almost everything around me fresh and local. My culinary career has taken me to Kingston, Ontario, where I have been the executive chef of Atomica for the last year. It's so inspiring to be a part of a city that allows you to have so much local produce, meats and dairy. Every day and every feature is different and full of creative life."
"I love supporting my local dairy farmers and most of Kingston does as well. Atomica is so fortunate to have some amazing local dairy farms surrounding us. Glengarry Farms (Lancaster, Ontario) and Back Forty Artisan Cheese (Mississippi Station, Ontario) offer some of the best charcuterie cheeses around and Limestone Creamery (Elginburg, ON) offers the city that old school 'drop off at your door' cream and milk dispensary. Having local dairy suppliers really helps give our customers the best possible product and top-notch food quality."
MILK & HONEY MENU AT ATOMICA KITCHEN
Crème Fraîche & Double Smoked Bacon Ravioli
~ with mixed mushrooms, basil pesto, and homemade churned truffle compound butter ~
Ontario Eggnog Panna Cotta
~ with mulled bourbon berries and crushed pistachios ~
FEATURING
Limestone Organic Creamery | Kingston, Ontario
RESTAURANT FEATURES
seating for 75 people | dining room and bar | sidewalk patio | children's, plant-based, and gluten-free menu options | craft beer | takeout and delivery
RESERVATIONS:
https://www.atomica.ca/