Join Us
Reserve now and be sure to pick up your free copy of the 2019 Milk Calendar!
Quietly tucked away in a small, uptown Niagara-on-the-Lake strip mall, is one of Canada's leading restaurants. Upon finding backhouse ,the glow of the wood-fired grill and aroma of the brick oven lets guests know that they are not just out for dinner, but rather embarking on a culinary journey of somewhereness. backhouse offers continuously evolving tasting menus with a commitment to integrated cool climate cuisine and enlightened hospitality.
A renaissance restaurant, the staff tend to the backhouse garden, and deliver vegetables daily, still warm from the sun—where they are cooked fresh every day or preserved for the long winter months. backhouse sources ethically-raised meat, do all of their butchery in-house, and cook over an open fire. Their sourdough breads are hand crafted and baked fresh in a wood-fired oven every day.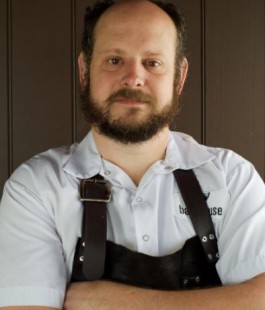 Some people are born to do what they do, that is true of Chef Ryan Crawford. Ryan has been involved in the kitchen his entire life. He studied at the noted Stratford Chef School and then became an instructor there for four years. He has travelled extensively, staging at The French Laundry and Terra Grill in Napa Valley; l'Orangerie, Lucques and Patina in Los Angeles, and Jardinière in San Francisco. Closer to home, he has worked with Michael Stadtländer and Jamie Kennedy.
Milk & Honey Menu at back house
Dip-Dip Egg
~ Fried egg white and cream mousse, with confit egg yolk and smoked Ontario trout caviar ~
Artisan Ontario Cheese Board
~ Choice from the largest selection of Ontario cheese in the world served with black walnut and raisin sourdough ~
Pannacotta
~ with Niagara cherries preserved in Dillon's Vodka ~
featuring
Sheldon Creek Dairy | Loretto, Ontario
RESTAURANT FEATURES
Feast On certified venue | integrated cool climate cuisine | seating for 65 people or stand-up receptions for 10 people
RESERVATIONS
visit: https://backhouse.xyz/reservations/