Join Us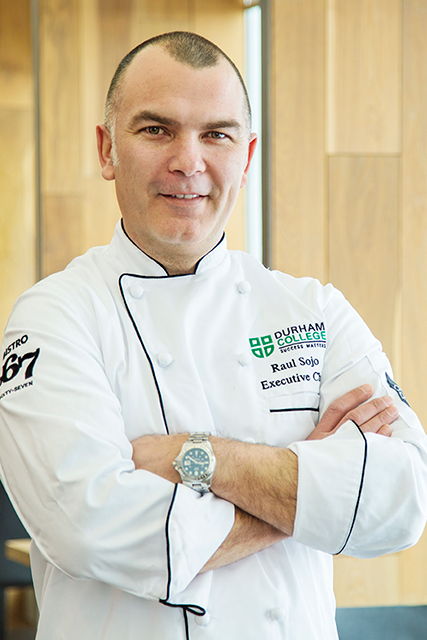 Bistro '67 offers guests a memorable field-to-fork dining experience within Durham College's award-winning W. Galen Weston Centre for Food (CFF), where community, local agriculture and learning come together. Meals are prepared and served by skilled staff and students who create flavourful dishes inspired by fresh ingredients from the CFF's own gardens and other local suppliers across Durham Region.
Executive Chef Raul Sojo summarizes the venue experience well: "Durham College W. Galen Weston Centre for Food & Bistro '67 focus on teaching a field-to-fork philosophy, especially with the broader community in mind. You do a lot better when you're working towards a common goal and part of that has to be supporting local Ontario dairy farmers and suppliers. It is so rewarding to see past students become successful professionals in the industry."
Under his masterful instruction, Raul's students get the complete restaurant experience, from selecting ingredients to menu design and cooking. "We work with the farming and horticulture program to plan what to plant according to our menus," says Raul. "We like to grow unique ingredients that the public might not otherwise be exposed to."
For other ingredients, Raul sources from local producers and farms. The green pastures of York Durham Headwaters contribute to beautiful cheeses, and there are many local businesses that produce tasty ingredients like mushrooms, honey, artisanal breads, and so much more.
Bistro '67 serves a dining experience that will delight your palate while supporting the next generation of culinary and hospitality professionals. A 3 Star Certified Green Restaurant, Bistro '67 also holds a Feast ON designation in recognition of its use of local food and beverage.
Milk & Honey Feature Menu at Bistro '67
Honey 5 Ways
Honey almond ginger sponge cake, honey panna cotta, honey meringue, honey nut tuile
House-Made Artisan Cheese
student and faculty-crafted cheese varieties - cheddar, blue & Champlain - made with Sheldon Creek whole milk featured on Bistro '67's charcuterie boards, weekend prix fixe, and pasta features
open Tuesday to Friday for lunch | open Tuesday to Saturday for dinner
Reservations: 905.721.3312 or email info.bistro67@durhamcollege.ca