Join Us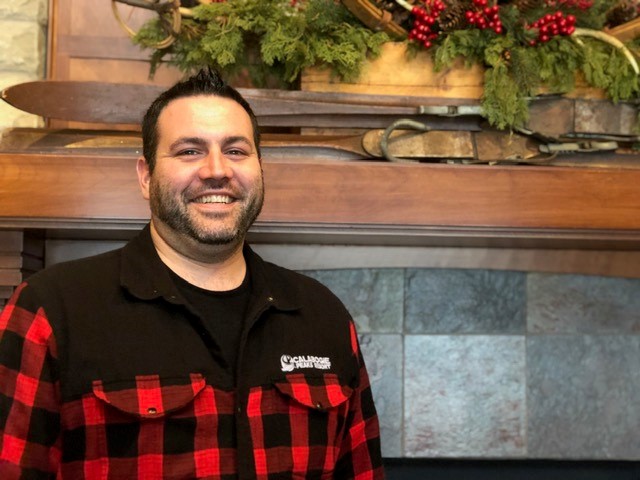 Reserve now and be sure to pick up your free copy of the 2019 Milk Calendar!
Mountain, Lake and Land is the essence of what it means to be part of the Ottawa Valley
Canthooks Restaurant takes these three integral parts of the "Valley" and uses the abundance of amazing local producers and purveyors for a dining experience that is both country and elegant. Whether it be foraging for mushrooms and wild greens from their mountain resort, fishing pickerel and trout from one of the many beautiful lakes or sourcing produce from local artisan farmers, Canthooks strives to stay in season and in the Valley with their products and menus.
Executive Chef Mark Jones is known as a "deconstructer" of food. He takes traditional recipes, pulls them apart and rebuilds, altering the composition and flavours while keeping the integrity of the food. He also has a passion for the grill and the different smoky flavours that rise up from charcoal or different types of slow smouldering woods.
Mark is committed to maintaining a food program that is authentic to the area by sourcing products from local producers and purveyors. Expanding the Calabogie Peaks Bee Hives, maintaining the "Feast On" authentication, and welcoming new local products are part of Marks' design. "So much is available in the Ottawa Valley, a rich and fertile place to grow great produce and graze good livestock. These assets combined with our country hospitality provide a healthy and enjoyable food experience for our guests".
MILK & HONEY MENU AT CANTHOOKS
Calabogie Peaks Wild Flower Honey & Ontario Milk Farmers' Crème Brûlée
~ with fresh berries ~
featuring
Agropur Milk | Orleans, Ontario
EVENT HOURS
Friday, January 18, 2019 & Saturday, January 19, 2019
from 7:00 a.m. to 10:00 p.m.
RESTAURANT FEATURES
Feast On certified venue | fireplace | craft beer
RESERVATIONS
t: 613.752.2720 ext. 1610