Join Us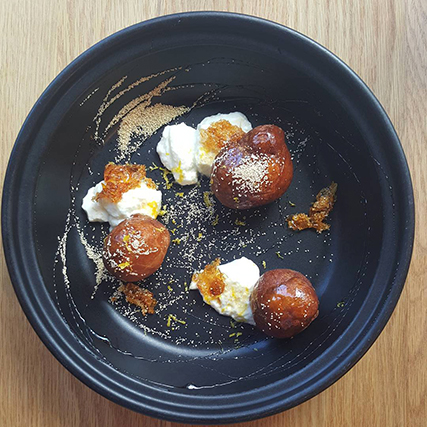 Reserve now and be sure to pick up your free copy of the 2019 Milk Calendar!
RICKY+OLIVIA are fun, curated pop-up dinners and events celebrating Ontario's food and drink by co-chefs Olivia Simpson and Ricky Casipe. Chef Ambassadors for FeastOn, Ricky and Olivia work with venues across Toronto committed to sourcing and celebrating Ontario-grown food and drink.
Their perspective is rooted in common sense, "Choosing to use Ontario Dairy is the obvious choice, not only to support our local farmers, but because it's the best quality to begin with. Ontario produces so many great things but dairy has always been the biggest staple."
MILK & HONEY POP-UP EVENTS BY RICKY+OLIVIA AT EVERGREEN BRICK WORKS
EVENT ONE
Ontario Cheese Fondue
10 a.m. to 12:00 p.m. at the Saturday Farmers Market at Evergreen Brick Works
The dynamic chef duo, Ricky+Olivia will be preparing an interactive 'Ontario Cheese Fondue' over an open bonfire, using a variety of Ontario cow's milk cheeses and 35% cream; accompanied by Ontario root vegetables and artisanal breads.
EVENT TWO
Monkey Bread with Black Sesame Milk Jam
12:00 to 1:00 p.m. in the Farmers Market Demonstration Kitchen at Evergreen Brick Works
Ricky+Olivia will be demonstrating and serving this rich savoury bread, made with whole milk and butter, and accompanied with black sesame milk jam. Sure to be a crowd favourite!
https://www.rickyandolivia.com/
https://www.evergreen.ca/evergreen-brick-works/