Join Us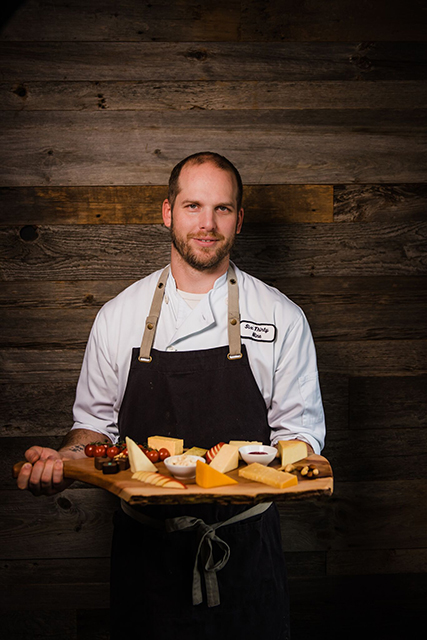 Reserve now and be sure to pick up your free copy of the 2019 Milk Calendar!
Established in 2005, SixThirtyNine is an award-winning casual fine dining restaurant located in the heart of Oxford County. Menus bring a unique combination of artistry and skill to bear on the finest locally-sourced ingredients. A 30-seat restaurant with chef's table and seasonal patio, SixThirtyNine offers an intimate setting and dedicated service. SixThirtyNine is commitment to building and maintaining relationships with local producers. SixThirtyNine is becoming one of southwestern Ontario's destination restaurants.
Raised in Princeton, just outside of Woodstock, Ontario, Chef and Owner Eric Boyar discovered his passion for cooking at a young age. Before opening SixThirtyNine, Eric attended Humber College which provided the fundamental skills to start his career. Working through various positions in a variety of well-known Toronto restaurants under notable chefs Massimo Capra, David Lee, and Scott Kapitan, Eric gained the skills necessary to pursue a venture of his own. Now, Eric is dedicated to bringing Ontario farm products to the table. His dishes elevate and highlight what is available in Oxford County, while being defined by flavour and beauty.
"Being in the heart of the Dairy Capital of Canada, we love to showcase ingredients that hold true to our heart and heritage. The abundance of quality dairy, dairy products and honey and honey products that are produced in our region make it easy to bring unique depth and character into our dishes. Milk and Honey is not only a part of our landscape but a part of who we are as a community.
MILK & HONEY MENU AT SIXTHIRTYNINE
Grilled Whey Sourdough
~ with whipped ricotta, smoked honey, toasted hazelnuts, and shaved Handeck cheese ~
Honey-Roasted Sunchoke Soup
~ with black garlic oil and creme fraiche ~
Honey-Smoked Whitefish
~ with buttermilk, parsley oil, pickled pear onions, and whitefish caviar ~
Roasted Ontario Veal
~ with buttermilk fried sweetbreads, celery root, Farmstead Gold cheese tortellini, and burnt honey jus ~
Whey & Honey Sorbet
~ with brown butter graham cracker crumble, thyme, and poached pears ~
FEATURING
Gunn's Hill Artisan Cheese | Woodstock, Ontario
Stonetown Artisan Cheese | St. Marys, Ontario
RESTAURANT FEATURES
Feast On certified | seating for 36 people | private dining room | garden patio | Chef's table reservations available | destination venue
RESERVATIONS:
t: 519 536 9602
sixthirtynine.com