Join Us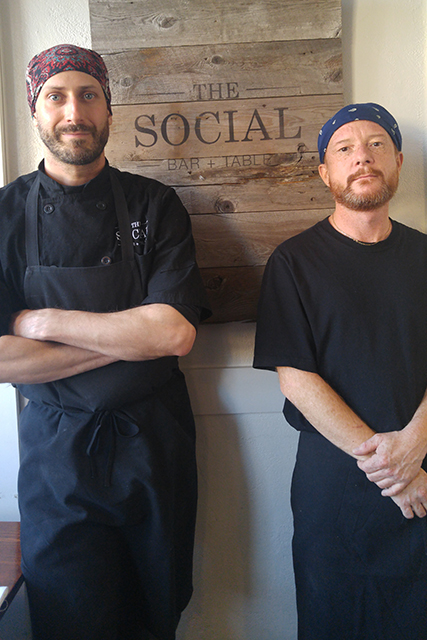 Eric Dreher (left), Darren McEwan (right) and Leah Coburn (not pictured) are the creative collaborators behind The Social Bar + Table 's fresh and local menu. With years of extensive experience behind each of them across Northumberland and the GTA, their paths have led them home to The Social.
A small but mighty restaurant tucked away in historical downtown Port Hope, this 30-seat restaurant makes for a perfect intimate setting to gather with friends and let time pass you buy. With a focus on fresh and local ingredients, the team has curated a winter menu focused on comfort. From chicken potpie, a lamb shank with creamy mashed potatoes and red wine jus or a braised brisket sandwich, The Social aims to warm you up with stick-to-your-bone dishes made from the freshest ingredients.
"I'd rather use local than anything else, it's more fresh and just a substantially better product," said Dreher whose background working at the front and back of house at Cumbrae's has lead to, "a real appreciation for high quality and traditionally raised dairy and meet products."
Another huge seller at The Social is the mouth-watering pint sized smoked cheddar mac n' cheese using Kawartha Dairy milk, cream, and Empire cheese. If you still have room after that, crack into a house favourite, crème brulee.
MILK & HONEY MENU AT THE SOCIAL
Smoked Cheddar Mac 'n Cheese
~ made with Kawartha Dairy milk and plenty of Empire Cheese ~
Classic Crème Brûlée
~ made with Kawartha Dairy cream ~
FEATURING
Kawartha Dairy | Lindsay, Ontario
Empire Cheese | Campbellford, Ontario
RESTAURANT FEATURES
Feast On certified venue | TripAdvisor Certificate of Excellence | OpenTable Diners' Choice Award
RESERVATIONS
t: 905.800.1152